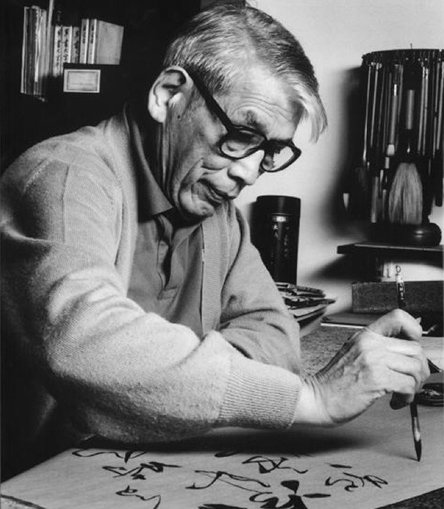 Chu Teh-Chun was born in 1920 in Jiangsu Province (China). Younger son of a wealthy family, his father was a collector of traditional Chinese painting. He was admitted in 1935 to the Hangzhou Art Academy. He was interested primarily in the traditional style, then opts, later, for Western painting. In 1937, the Sino-Japanese war caused the exodus of universities to the west of China. Teh-Chun graduated in 1941; he was immediately appointed assistant professor in his own school and then full professor in 1942 at Nanjing University. He traveled, discovered Chinese landscapes that were sources of inspiration (descent of Yangzejiang).
After the Second World War, he moved to Taipei. In 1951, he was a professor at the National Normal University, where he taught Western painting. In 1955, to perfect his culture of art, he moved to Paris after a journey that made him discover other countries and other landscapes still - Egypt in particular. He painted the landscapes of Paris, works at La Grande Chaumière where he met other painters, travels to Europe. He was fascinated by the retrospective of Nicolas de Staël which made him really discovered the abstract art.
His first personal exhibition took place in Paris in 1957. He then attended the artists of the School of Paris as Soulages, Hartung or Mathieu. His art met his first successes and spread abroad through collective exhibitions in which he participated (Pittsburg, Jerusalem, Athens, Sao Paulo).
The artist seems to open a new chapter in the art of landscape, a landscape where a subtle poetry mixes. Virtuoso, inspired by calligraphy as well as by the signs and the mood of the East, he created an important graphic work, drew, realized ceramics, painted large formats, diptychs, triptychs, monumental works, always inventing a writing personal between poetry and painting. In 1987, the National Museum of Taipei organized a large retrospective exhibition; it is his return, for the first time, to the native country. In 1997, he was elected to the Académie des Beaux-Arts at the Institut de France. For the "Year of China in France" (2004), no less than four exhibitions are organized to celebrate it.
The artist died on March 25, 2014 in Paris, he was 93 years old.
No artworks available for the moment.
Please feel free to contact us for more information.