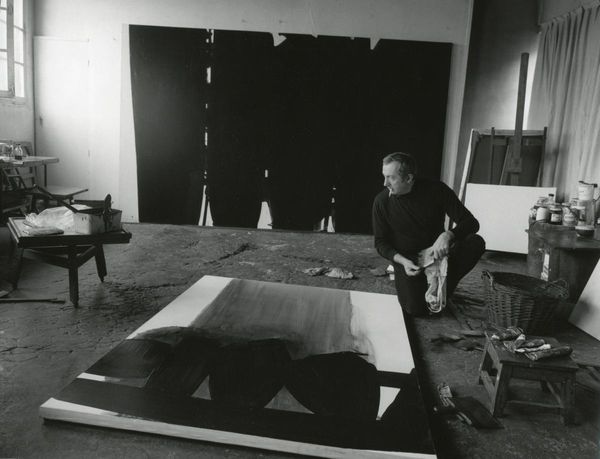 Pierre Soulages was born in Rodez, in Rouergue, on December 24, 1919.
In 1946, he moved to Paris and made many charcoal drawings on a rather geometric background. Pierre Soulages' first solo exhibition at the Lydia CONTI Gallery took place in 1949.

Pierre Soulages' painting is like a chord on a large keyboard, with both hands together, flattened and held. His compositions look beyond the details of nature. It is not a description of something, nor a symbol of something other than itself, it is in itself an integrated visual unit. In this aesthetic organization, Soulages sees a relationship with the organization of nature.

He widely used the transparencies, by tearing off canvas, using a knife. With a scraper, he digs in straight lines the underlying cool layer, sometimes going as far as finding the canvas. It thus produces intensely bright and yet dark color fields. For Soulages, painting is a living object, a poetic object "It's what I do that teaches me what I'm looking for".

Pierre Soulages is one of the pillars of lyrical abstraction. A major retrospective at the Georges Pompidou center in 2009 paid tribute to him.
No artworks available for the moment.
Please feel free to contact us for more information.