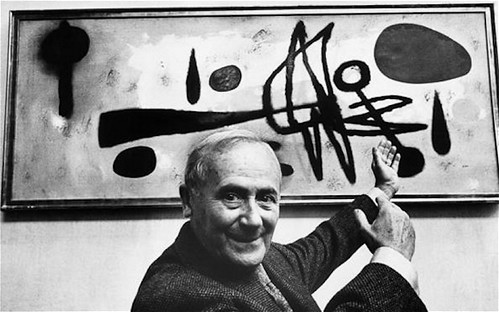 Joan Miro Ferra was born in 1893 in Barcelona (Spain). Hestudied at the Academy of Fine Arts of Llonja (1907-1910), while following the courses of a business school. He will attend from 1912 to 1915 the art school of the painter Francesco Gali, then the Sant-Lluc Circle Drawing Academy until 1918.

In 1912, Miro met the ceramist Artigas, the painter Ricart, and discovered cubist painting during an exhibition in Barcelona. He is already painting, a period that is generally called "Catalan Fauvism". His first solo exhibition took place in 1918 (Galerie Dalmau, Barcelona), before he moved to Paris the following year.

In 1920, he met Picasso there and participated in the Dada festival (Salle Gaveau). At the end of the First World War, Miro composed realistic landscapes. His art evolved in the early 1920s, drawing him into an imaginary style that would lead to surrealism. In 1921, he rented the former workshop of the Catalan sculptor Gargallo and obtained his first personal exhibition in Paris; it's a time of great poverty. He joined the surrealist group in 1924, and took part, twenty years later, in the International Exhibition of Surrealism (Paris, 1947). His works are populated with pictograms which can be read as his own code. From 1925 to 1927, his paintings became dreamlike and bare, as freed from earthly gravitation and called by the stars. Miro also produced a set of paintings-poems, then worked (1926-27) on a series of imaginary landscapes where nature burst into the fantastic. In 1926, he collaborated with Marx Ernst on the sets of "Romeo and Juliet" for the Ballets Russes by Diaghilev. At the end of the 1920s, he produced a series of works inspired by old masters, then created imaginary portraits. Taking hold of various materials (bark, tow, assemblages of objects, etc.), Miro produced collage paintings that he himself would describe as "anti-paint".
In 1932, he exhibited in Paris and New York and met Kandinsky the following year. During the Spanish Civil War, Miro painted what he called his "wild paintings".

In 1937, Miro created a mural for the Spanish pavilion at the Universal Exhibition in Paris. At the start of the Second World War, the artist took refuge in Spain, then joined Paris in 1942. During the war, he continued his quest for a poetic representation and painted the ensemble "Les Constellations". He then uses brutal techniques (brush, scraping, smear, etc.) and invents, in parallel, his writing (star balls, turns, broken lines, etc.): the woman, the bird, the star, become figures recurring in his work.

In 1944, Miro began to make small bronze sculptures, he was also interested in ceramics. Miro's graphic work is of primary importance, such as the successive marriages of his art with texts or poems. In this area, for example, in 1947, he illustrated "A Tout Eglise" by Paul Eluard, and "Antitête" by Tristan Tzara.

In the 1960s, his more meditative canvases were often painted on sackcloth, while in the 1970s he painted on burnt canvases. Miro will also carry out, by multiple orders, monumental works (mosaic wall, sculpture garden, Paris, Spain, United States, etc.), a set of stained glass windows for the Saint-Frambourg chapel in Senlis.

The Miro Foundation in Barcelona will be inaugurated in 1976, the artist had donated 50,000 drawings. The Joan Miro Museum in Palma de Mallorca will be open to him in the artist's studio ten years after his disappearance.
Joan Miro died in Palma de Mallorca (Spain) in 1983.
No artworks available for the moment.
Please feel free to contact us for more information.