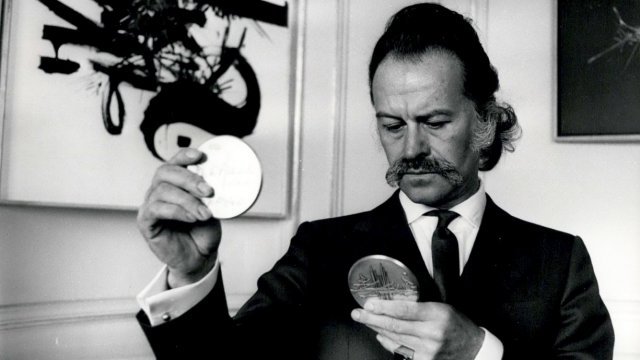 Georges Mathieu was born in 1921 in Boulogne sur Mer.
He came from a noble family of bankers but studied letters, law and philosophy at the University of Lille where he obtained a Bachelor of English.
Once the degree obtained, he started to paint his first works and at the same time to be a professor. He decided to organize some exhibitions to promote a liberate art called "Lyrical Abstraction", movement which he is the major figure.
Until 1950, Georges Mathieu created some canvas composed with stains and started to travel all around the world. He always gets a cheering. These permit to the artist to realized that he needed to develop a new art with his own style.
His work is exposed all over the world and he likes to make some happenings in public to show the way he painted and his gesture, which reminds the one of Jackson Pollock.
He began to create new forms and worked for some projects for the National factury of Gobelins, platos for Sevres, posters for Air-France and designed a new 10 francs.
Always surrounded in a new project, Georges Mathieu decided to promote art professions. He is also awarded with the Legion of Honor and maked Commander of the order of the Arts and Letters.
Georges Mathieu died in 2012.