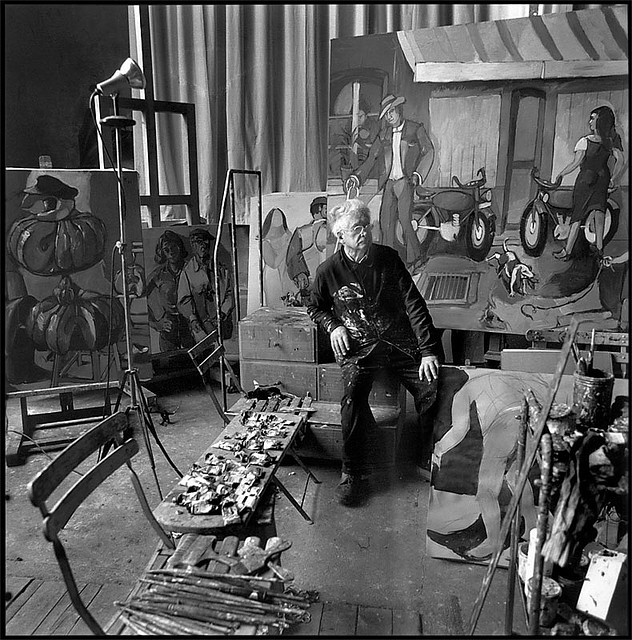 Jean Hélion (1904-1987) crossed the 20th century in a broken line. One would expect that his work would be less rugged than his life.

Starting at the Montmartre "croute market", his introduction to modern art took a new turn when, at the end of the 1920s, Hélion became one of the most active animators of the abstract movement. His friends are named Torres-Garcia, Léger, Mondrian and Van Doesburg and again Arp, Miro and Calder. Member of Concrete Art then of Abstraction-Creation, theorist, founder of journals and propagandist of his aesthetic, Hélion played a decisive role in Paris in the early 1930s and in New York in the second half of the decade.

He was also, from 1938, the first to question the abstraction he had helped so much to develop. Shortly before the war, he began to paint heads, cyclists and passers-by.

Back in New York in 1943, he continued on this lonely path, at the risk of being understood by almost no one. From that moment in the 1960s, as he moved towards an increasingly meticulous realism, he crossed a desert where neither gallery owners, critics, collectors and very few artists accompanied him.

His last twenty years are those of an explosion of colors which transfigures urban themes, political allegories and even still lifes in extravagant chromatic harmonies. Hélion succeeds in the synthesis of its abstract geometry and its figuration. He invented a singular and acidic painting, simplified and complex, which has never ceased to influence contemporary artists.
No artworks available for the moment.
Please feel free to contact us for more information.